Approved for Enhanced TN Handgun Carry Permit
To qualify for the handgun carry permit in Tennessee, you'll need to complete an approved handgun safety course within 6 months of applying. Students who complete our Enhanced TN Carry Permit class will receive a Certification of Completion to meet this requirement.
Click here for TN Department of Safety & Homeland Security handgun carry permit requirements..
Although you must be 21 years or older to receive the permit, this class is open to anyone 16 years and older. Students 16-20 years old must be accompanied by an adult.
Price: $65.00 per person / $50.00 per person for members


REGISTER NOW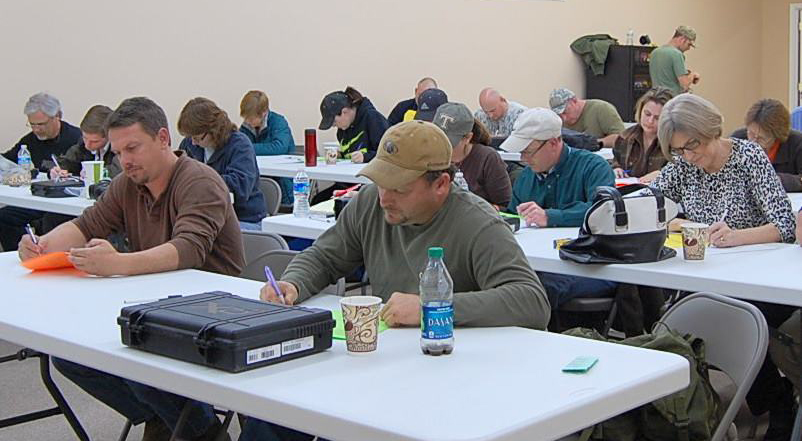 More about the class
This is the eight-hour safety course required by the State of Tennessee* to obtain the Enhanced handgun carry permit (HCP). Tennessee does not require a permit to merely own a firearm (for example, if you keep one in your home). However, if you want to carry a firearm on your person out in public, you'll need a permit.
Unlike the Concealed ONLY permit, the enhanced permit carries with it the reciprocity in other states while the concealed only one does not.
We will provide:
Uncompromising adherence to safety protocols
Small classes with low student-teacher ratios
Patient instructors who can relate to new and non-traditional shooters
Attention to detail and individualized instruction
A non-intimidating atmosphere
Extra attention to fundamentals and practical application
Primary focus on self-defense contexts (as opposed to hunting, sporting, or competition)
Ultimate respect for students' time, priorities, and motivations
We understand that this will be many people's very first firearms training class, so we go out of our way to make it a positive experience. We also want our HCP class to be the safest in the state.
You will need the following:
A handgun
Eye and ear protection
50 rounds of ammunition
We encourage you to bring your own gear for the best experience, however we do have all of these items for rent or purchase.
Basic handgun knowledge is required for this class. If you don't know the basics, ask about our private lessons. We'd be happy to teach you all about guns and how to shoot them.
Cancellation policy
Should you need to cancel your registration, please let us know immediately. For a full refund, you will need to cancel no less than 7 days before your class date. Should you cancel less than 7 days before your class date, your payment will be applied to a future class or available for in-store purchases.
Because our classroom capacity is 32 students, we must reserve the right to cancel your seat. In this case, you will receive a full refund.